November 19, 2013, 11:14 pm
I have some great knitting stories from the set of my most recent production, which I can't wait to share, but in the essence of 2 in the morning post and pics yet to upload, I've decided to bomb my own knitting blog with food. With the essence of Peppermint - to celebrate the opening of my Hand Carved Crochet Hook Store and the 2nd-in-series Candy Cane Crochet Hook Auction , hand carved by yours truly, which is too much fun to carve and stripe with candy flair. You have the option to snag this hook for your highest bid- four more days, no reserve or cap on bidding: currently at $9.
If you're starting to play with food and recipes for the coming feast, then perhaps, consider the peppermint flair. Welcome yummy triple chocolate peppermint cake!
Aaand peppermint chocolate fudge look fantastic.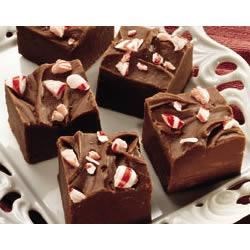 Until our needles are clicking again,
Roux