November 21, 2013, 7:09 pm
Impromptu knitting classes on set.
it's rare that a production lends itself to time to knit. If you've ever worked or even seen the set of a commercial, you know the vision of people bustling back and forth at0-dark-thirty until...0-dark-thirty on the other side of the clock. Twelve hour days are a norm and non-stop pace can be expected. So when I was called on to work for a few days of shooting in Florida and they said "There may be some down time." I didn't really think there would be- It's not happened yet in the years of production. But, I was happy to bring my knitting bag, which I packed with enough yarn and needles for the department. Stuffed it into my kit, trotted onto set and jumped into the 0-dark-thirty shuffle. Hustle bustle, just like normal, and then, just like when the clouds part and the sun comes shinning through an overcast day, the busy broke and suddenly we found ourselves looking at each other wondering if it was really happening. When we realized it WAS really happening and we couldn't reorganize, consolidate, or repack hangers any longer, we took to the needles.
Two gals, Amy & Megan were my soon-to-be knitting companions. And now, these gals are first time knitters. Like, first time needles are in your hand, type of knitters. I guess what I'm saying is they weren't knitters at all. Yet. But that was about to change.
So I pull out two skeins of light worsted weight yarn and one skein of baby weight (for me), and I commend these girls for taking it in stride. I like to teach knitting with big needles and CHUNKY yarn, I mean, like super bulky yarn.
Like Twinkle's Chunky green. Yeah, that.
And then get them some needles, say yay big: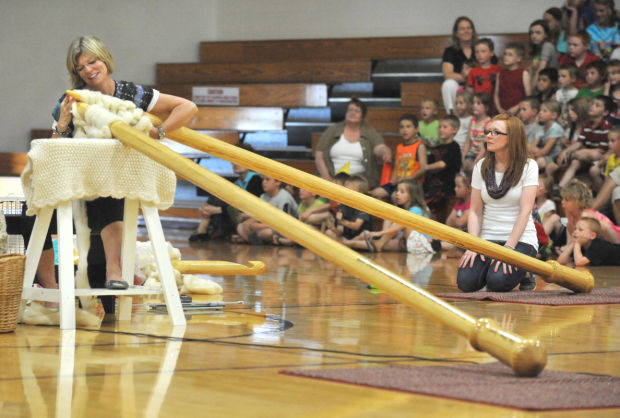 Ok, maybe those are too big...but there is something so gratifying about being able to see what's being produced and the sooner the better that first time while you awkwardly hold the yarn and try to believe the teacher that something magical is in fact happening. But my stash was fresh out of bulky yarn and honkin' needles, plus i knew that every trial they would face on the first day would arm them for the rest of their knitting lives. I mean, as long as our project wasn't something impossible like a sweater (or a full blown leg warmers on size US2's like my first project). We decided on the simple, gratifying and yet useful coffee cup cozy. One working with US 10.5mm needles and the other on US 8.0mm, not too bad. They could just knit it flat in stockinette or garter stitch if they didn't feel like purlin' back and have a cozy by the end of shoot day. I hope.
They worked and fought those stitches for a few good hours- one on tricky slick aluminum needles with yarn that kept splitting, and the other on double pointed bamboo needles that weren't pointy enough to get through her cotton tencil yarn with ease. But I kept cheering them on, knowing that every problem and struggle they face today was nothing new to veteran knitters. Splitting yarn: check! Dropping stitches: check! Dropping aluminum needle: check! Tight cast-on yielding difficult first round: check! I mean, it was boot camp, but in the most lovingly way possible.
By the end of the day, we had what became referred to as the "Ground Meat Coffee Cozy", "Because it looks like ground meat!"
and the other will either be a Shot Glass Cozy, a Bracelet, or perhaps a Keychain grip? Still to be determined.
But she did a killer job. She didn't think so and she probably thinks I'm bluffing now, but I watched as she would quietly make a mistake, and observe her stitches to find the problem area. She quickly figured out how to place her stitches back on her needles when they slipped. She had that quiet rhythm of a natural knitter and the potential to knit faster than me one day. I kept calling her "dangerous" :)
So we wrapped that first shoot day with two FO's from two new knitters! It was a celebratory mood and quick snaps of pictures were shared with the world & the rest of set. Was there a commercial going on here? I dunno, we've got yarn to move!
The girls quickly determined they must get more yarn, this time chunky with their own bigger needles, so that evening, with just a few hours to spare, I went to Joann Fabrics. But one trip to mainstream craft store and their limits can only bring about appreciate for the beauty of local yarn shoppes with their luxury soft yarn in every weight and color usually with the aid of a lifetime knitter nearby. This was not available to me (sigh):
But, I did the best I could do at Joann's and found a Roving wool blend from Bernat:
And an acrylic "Mushroom" color, which was only available in worsted weight. I really didn't want worsted weight for my new knitter, so I decided to throw her a curve ball and see if she'd be up for knitting with two strands of the worsted weight to create a bulky stream of yarn.
And these needles spoke to me,
I mean, that looks like a honkin' good time! But since the chunkiest yarn was not luscious enough to not create lace stitches with those, I settled for size US 13 bamboo circulars, 16" in the round. Circulars are my preference even when knitting flat, and I think a great resource for beginners because
A) Your stitches cannot fall off
and
B) You don't have to purl if you don't want to.
And while the scarf is the signature project for a new knitter due to its simple, flat nature where gauge doesn't matter, you do have to purl or do something to block it on the ends if you don't want it to roll back on itself and sometimes, asking a new knitting to purl is just too much. And that's okay- I understand the loathing of purling. So what better fix than to knit a simple cowl in the round. This lends itself to a simple cast-on, connect it in the round, and simply knit. Or if you want to get fancy and are okay with a purl stitch, Knit1, Purl1 all the way around and on the next row, reverse it and Purl1, Knit1 for a seeds stitch like JenRenee's Gaptastic Cowl.
Simple, beautiful! Or use any number of the simple variations of Knit and Purl that make textured designs.
...the only thing I did not do was have these girls make a gauge swatch. And that may have been a mistake. They both cast on around 100, but the roving was knitting up much chunkier than the worsted. But after looking at some pics, I realize that a cowl is a good first project. I bit more hip than a scarf, super cozy, and pretty safe no matter what gauge you end up with.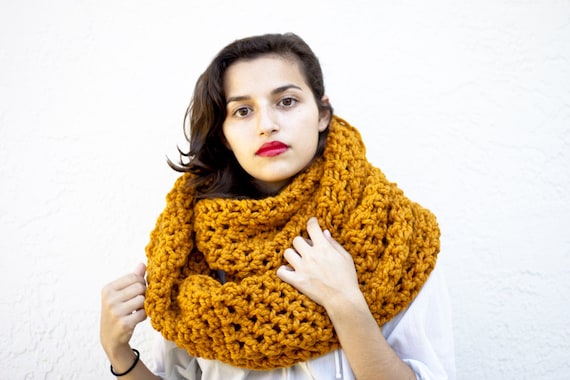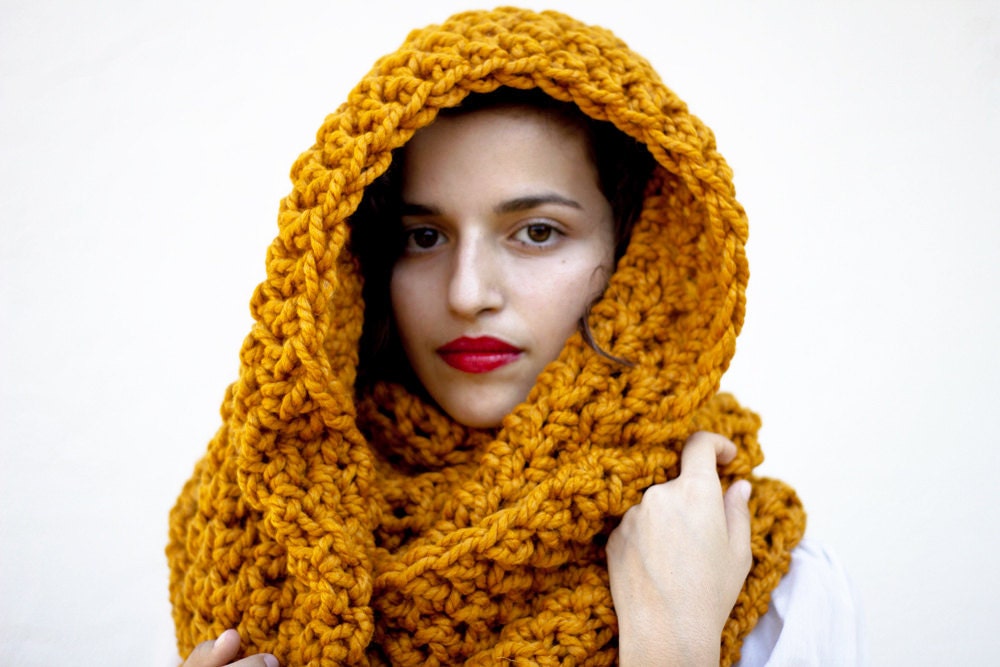 Before long, Amy's Roving yarn started to look like this:
And our second, two-stranded party was lookin' pretty awesome,too:
(pay no attention to the swearing coming from the general direction of the yarn-holder, she's doin' fine with her fancy pants seed stitch)
So, we wrapped that day with still more stitches to knit. And I may have heard some talk from one of the girls about throwing her work in the river...? But I have since checked in and apparently it is still alive and well, so we'll have to wait to see if it makes it into a cowl, but I think it does.
I look forward to the two finished objects of these two lovely ladies, and having two new friends join the wide world of knitting. Welcome aboard, Amy & Megan!
That, my friends, is the story of knitting on set.